Recently we have successfully produced neoprene foam gasket products you could call it foam lipo pads professionally for FPV machines. They are for our customer in Taiwan. After our customer received them, we have been sent back a perfect feedback from him. These foam gaskets are made of our closed cell neoprene rubber foam with high durability and resilience.
At beginning, when we received our customer's inquiry, we found he did not know exactly what material is best suitable to function as cushion for his FPV products and just knew a black foam pad with adhesive backing is needed. Considering the exact application and situation that the foam material will be used inside the FPV frame for long term cushioning and shock absorption, it should be highly durable, resilient and abrasive resistant. So we recommend our Neoprene foam rubber materials with acrylic adhesive backing for this project. Die-cut technique was mainly utilized to realize the custom foam gaskets. Finally the neoprene foam gasket turned out to be a great success and he were much pleased to have the foam gaskets we produced.
Neoprene foam rubber are naturally ideal as foam gasket material comparing with other foam materials. Neoprene foam gaskets are quite widely used for lots of industry usage for cushioning and insulation purposes.
For this foam gaskets project below is needed: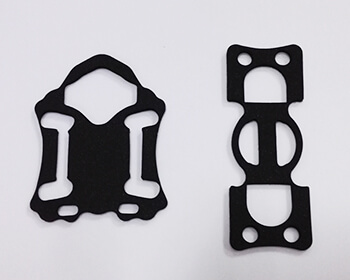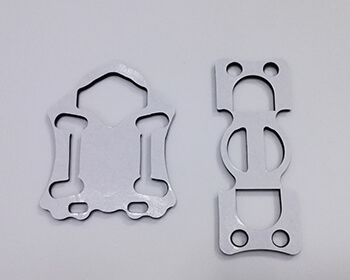 Back View- Adhesive Backing 
Materials
FOAMTECH Neoprene foam rubber
Acrylic adhedive
Specialized in plastic and rubber foam industry, FOAMTECH is a leading manufacturer of premium foam materials and products. We provide a wide range of foam materials including EVA foam, Polyethylene foam, Polyurethane foam, PVC/ Nitrile foam, Neoprene foam and so on. With sate of art production facilities, we have capabilities to deliver high standard custom foam fabrication with tight tolerance including custom foam packaging, foam seals & gaskets, foam tapes and other custom foam fabrication products. We are dedicated to proving better solutions for your industry. For more information, please feel free to contact us!