Crosslinked Polyethylene Foam is a kind of odorless, comfortable and environment-friendly material. It can be easily fabricated to any custom required shapes and sizes with adhesive backing available. All these advantages make them quite frequently and ideally used for medical and hygiene relevant applications.
Cross Linked Polyethylene Foam Pad
Here is a typical medical related foam products we have produced for UK markets. It is a foam pad with sticky adhesive backing for easy usage, which is made of our white Cross-linked Polyethylene Foam material. The white sticky feet pad is disposable products mainly used in beauty salon, spa's and spray tanning. Easy to use, users can simply peel and stick these foam pads to the bottom of their feet. Then they will be provided smooth comfort and hygienic protection during the tanning session. Once the session finished, the polyethylene foam pad can be easily pull off. Also this foam products can be used for any application where hygiene and cleanliness is required.
Besides the sticky pad products, we did offer our UK customers value added services such as custom packaging solution. Our customer sells these polyethylene foam pad with his own brand and needs private label identity for every products including this pads. So we worked out the packaging solution for him. After foam pads completed, we have used one paper box made by ivory board to hold 50 pairs. These paper boxes are available for any custom printing on it. Then we have prepared corrugated master cartons also with custom printing to contain 20 boxes for shipment. It has been a very sophisticated practice for dealing with our customers' brand.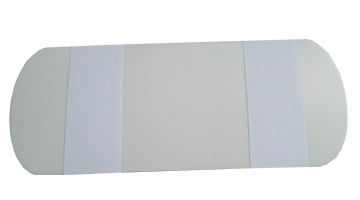 Front View of Sticky Feet Pad ( with adhesive to under feet)
Back View of Sticky Feet Pad ( this side to touch floor)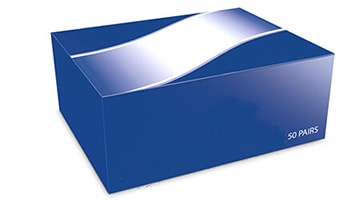 Custom Paper Box Packaging With Printing