The foam knee pad inserts are a typical and popular foam gadgets for workers in industry of construction, building, agriculture, mining and gardening, which are one of the most handy and useful labour protection and personal protection appliances.
We have produced knee pad inserts for customers in America, United Kingdom, Australia, Germany and so on. The foam knee pads are made of high quality EVA rubber foam with close cell structure. They can be offered in plenty of custom colors as the EVA foam materials can be, but based on our experience, black, red, yellow is the most popular color for the workwear knee pads. Made from closed cell EVA foam material, these foam pad inserts perform well on durability and resilience. These properties just fit into the needs of the workers' working environment providing them consistent cushioning and protection. When foam products are made by closed cell material, it can have great water, moisture and oil resistance ability. Also for anyone having it, the knee pads are quite easy and portable to install and use when users put on their workwear pants. Our regular sizes for knee pad inserts are 19cmx 14.5cm, 21cmx 16cm and 24cmx 17cm. They can be well compatible with most of the workwear pants brand on the markets such as Dickies, Carhartt, Wrangler and so on. It is also very easy for us to customize the size for individual customer needs.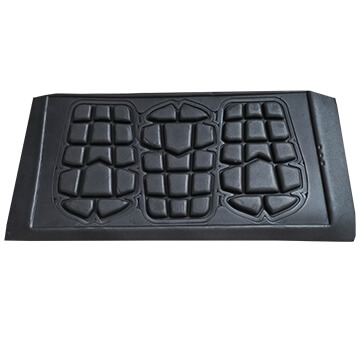 Front view after mold thermoforming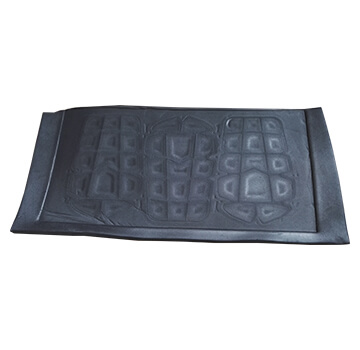 Back view after mold thermoforming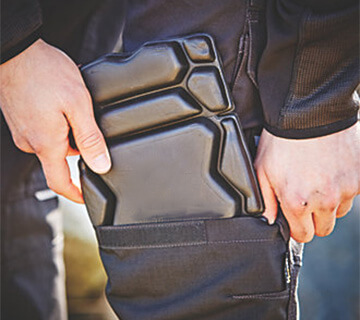 For actual manufacturing process of this foam products, our capabilities of foam thermoforming and die cutting will be utilized. At the most beginning, our production team needs to focus on mold design and development of the knee pad inserts according to customer requirements. We will prepare our EVA foam rubber materials at the meantime. The moulding design and development is sure the most important part for any product. Once completed, we will be on track of utilizing our thermoforming machinery to realize the custom molded shape with EVA foam. Usually for knee pad inserts, the mold will be large and that means we can produce 3 pieces of knee pads the same moment. This is as you can see from above pictures. The final production process will be die cutting for the molded foam pads. Until then, we can just say these knee pad inserts are almost completed.
Before order shipment, there is another important part needed to be done. It is about custom packaging for customer branding. For knee pad inserts, the most popular package would be simple paper header or poly bag with paper header. Then we need to work on outer carton according to customers's requirements. Once custom packaging ready, this order can be scheduled for shipment.
For this EVA knee pad inserts project below is needed:
Fabrication techniques
Skiving & Splitting
Vertical sawing
Die cutting
Foam assembly and Private label service
Specialized in plastic and rubber foam industry, FOAMTECH is a leading manufacturer of premium foam materials and products. We provide a wide range of foam materials including EVA foam, Polyethylene foam, Polyurethane foam, PVC/ Nitrile foam, Neoprene foam and so on. With sate of art production facilities, we have capabilities to deliver high standard custom foam fabrication with tight tolerance including custom foam packaging, foam seals & gaskets, foam tapes and other custom foam fabrication products. We are dedicated to proving better solutions for your industry. For more information, please feel free to contact us!