Trust almost everyone has gone to a car wash station, so you should have seen the auto car wash brush, and experienced the service provided by a automatic tunnel car wash system.
You might not know what the brush material is. But currently EVA foam is largely used as auto car wash brush for the washing equipment. Check it out next time when you will be there.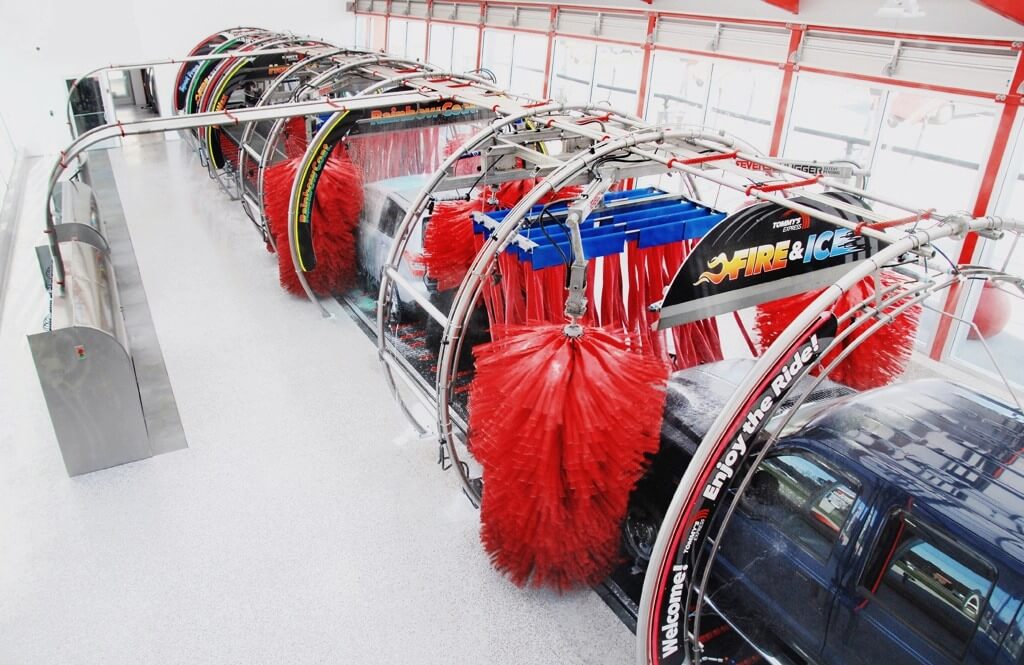 Here in this post, we are going to introduce you how EVA foam brush works in automobile washing systems.
Links between EVA foam and Car Wash Systems
When you get a close check of car wash equipment and systems, you could find out hundreds of EVA foam brushes neatly assembled on a rotatable metal shaft as a powerful washing parts.
At first, you may not know what is EVA foam? Not to worry, here is a quick link to get full information of this versatile material – EVA foam.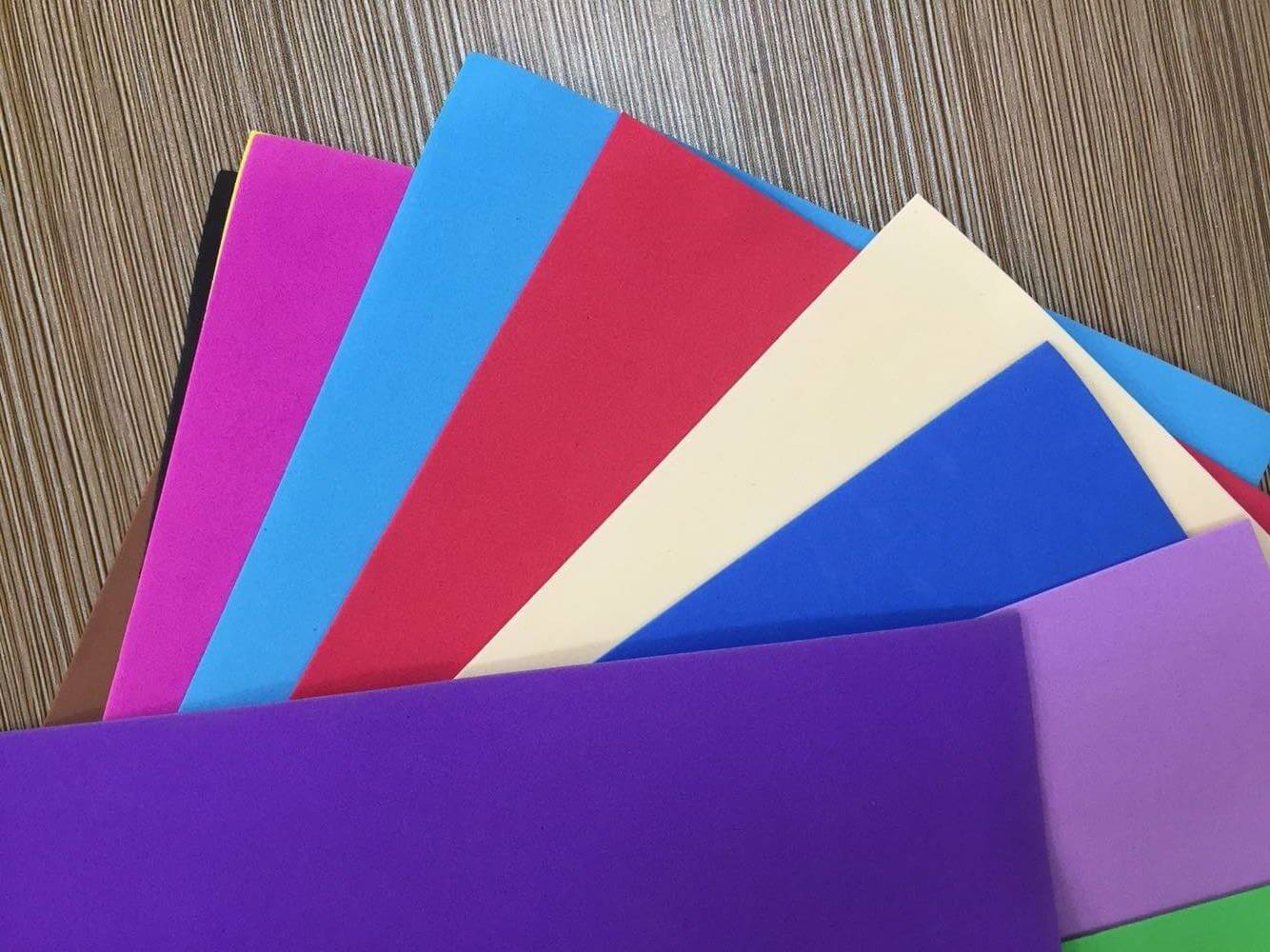 Briefly EVA foam is closed cell foam varying in a wide range of densities and hardness. Importantly, you should note that, different density and hardness can make a EVA foam with a quite difference performance and property. So choosing a EVA foam with proper performance for car wash equipment seems to be very important.
Brush is a very important part of automatic car wash equipment system. It is apparently simple to know that brush is the essential part used to clean up car or other vehicles. As auto wash brush, EVA foam is needed to be wear-resisting and highly durable which are rotated vertically or horizontally to thoroughly wash car or other vehicles. Also for a auto car washing machine, the attached foam brush is a frequently used accessory for every day operation.
Currently car wash equipment company mainly use EVA foam brushes, traditional plastic bristle brushes, cloth textile material brushes. Among them, due to the advantages on both performance and costing, EVA foam has been more and more frequently used for auto car wash brushes.
Get to know why EVA foam can be idea fit for car wash system
Based on EVA foam properties, we will illustrate why EVA foam brush is a good choice for car washing systems.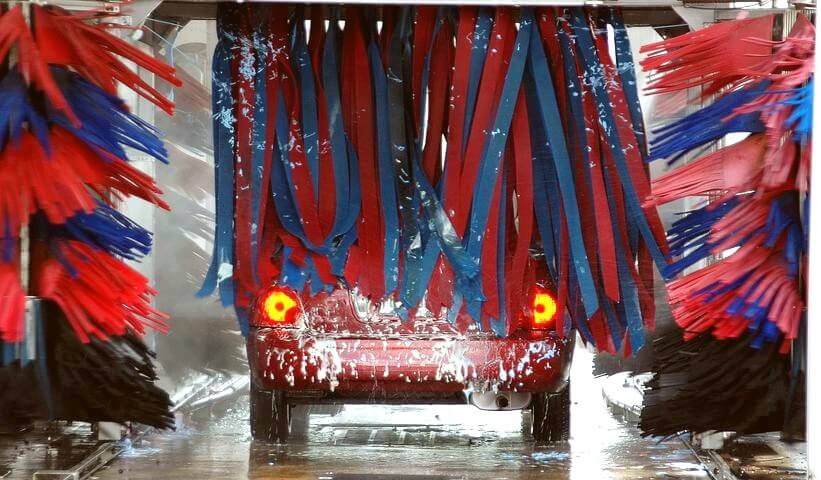 As mentioned, EVA foam material is a closed cell plastic material with low water absorption. They are naturally waterproof material because of their closed foam structure. On the contrary, open cell foam is week facing with water, moisture or other liquid. For more, you could find out difference between closed cell foam and open cell foam from this link.
Working as auto car wash brush, waterproof EVA foam can largely save water used for cleaning. Their cleaning performance is not affected by water flow when operation. Besides, EVA foam car wash brushes also do not hold dirt when working on vehicles.
Due to closed foam structure, EVA foam has excellent performance on solvent resistance. You can easily know that when your car is served at a car washing station. Relevant detergents would should be used to facilitate this process. EVA foam are good at working with washing chemicals. They will be be affected by all sorts of detergents and keep excellent washing power.
But when using textile wash brush, you will clearly find out that they will inevitably absorb and keep water on itself. So sometimes textile cloth brush could not clean up thoroughly and leave some dirty spot on cars.
Car wash brush is an import auto car washing system accessory, which is used every day for car washing. In actual operation, foam brushes will be rotating along with washing machine to remove dirt on vehicles. This process is a constant process which can abrade brushes every time with strong impact force. So foam brushes have to be highly resistant to that daily abrasion.
When working, foam brushes would go through almost every aspect of car body, windshield other wheels etc. But the underlying fact is regular EVA foam can not withstand such suffering process in the long time. Only specialized EVA foam brush can make this, and perform well also in long term run.
Specialized EVA foam can be with excellent tensile strength and elongation performance. Those properties are needed to a nice car washing brushes.
With flexible and adjustable hardness, EVA foam can be formulated to be soft and resilient. It is a quite versatile foam material with good impact absorption ability.
Car washing is needed to be very careful as any harsh operation might cause problem for customers's car. As a car wash brush, it can not be made by hard or rigid material. Soft EVA foam brush can deliver a reliable, safe and gentle service for vehicles. They are resilient and cushioning, which can provide a consistent shockproof performance.
Additionally, when working on the tunnel car wash systems, auto car wash brushes will be stretched by rotating shaft at a constant and high speed. Soft and resilient EVA foam is ideally able to sustain this process.
Various Colors, Sizes, and Shapes
We believe people want to see more colorful things not just a black or white. EVA foam can be flexibly made in various custom colors. They are naturally colorful, and are available in a lot of color ranges including red, yellow, blue, orange, green, gray and so much more.
With auto car wash brush, your car washing equipment can be colorfully decorated. It is refreshing for both your marketing work and attractive to your customers.
Automatic tunnel car washing systems is a complicated integration which are designed to wash almost every part of the vehicle. EVA foam can be a great fit to get this work done. They comes originally as a large bun, but can be made by many foam fabrication techniques into any custom sizes and shapes.
With this advantage, EVA foam are made into various car wash brushed with different sizes and shapes. They can function and work for cleaning of different part of a car.
Analysis of 5 Top Companies in Car Wash System Industry
Here let us take a look at 5 top players in car wash equipment markets. The 5 top companies has been innovating and leading car wash systems and equipment. Today we will take you a way to see how they work with EVA foam as car wash brush.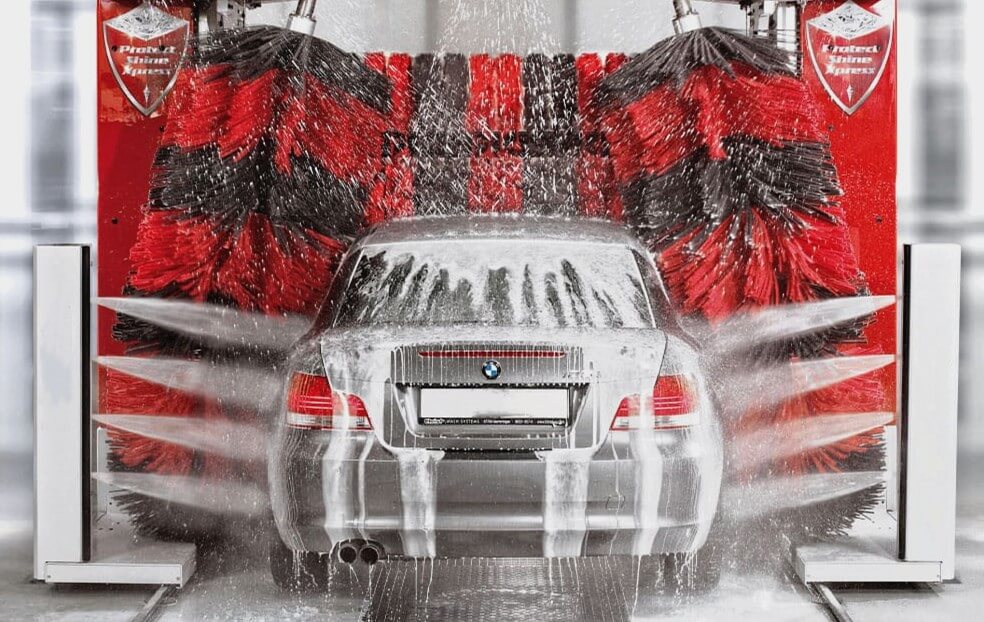 They are Istobal from Spain,  WashTec from Germany, Tommy Car Wash Systems and NS Wash Systems from USA and MacNeil from Canada.
Case #1

 Istobal has been releasing their latest and innovation car wash brush fitting system. This new system can allow machine users only change worn brush material, and save cost on fitting system. It is a simple, easy but powerful system with patent obtained. Their fitting system is patented, but you have full access to EVA foam as auto car wash brush.  You can change the worn foam brush with new foam brush from other supplier.
Case #2

 High performance EVA foam is also utilized by WasTec, which is also a global leader in car wash systems. Their revolutionary washing materials – SofTecs is actually a kind of superior EVA foam material. As they mentioned, SofTecs is created from a non-porous material and is guaranteed to be the safest way to wash vehicles. This is just what high quality EVA foam can do!
Case #3

 After checking the marketing information on website of Tommy Car Wash Systems, we can clearly see that they are using a lot of EVA foam brush as wrap brush, top brush, and side brush for their washing systems and parts. Red and gray color are the featured color for car wash brushes of Tommy Car Wash Systems. EVA foam car wash brushes are gentle soft foam, and can offer a closer and more thorough wash. This can actually make washed car shine than before.
Case #4

 The after checking the information about NS Wash Systems, we found out that what they use for wash brush materials is very similar with Tommy Car Wash Systems. N/S Corporation has used EVA foam their primary washing material, and they each have a category for foam wash brushes. The EVA foam brushes work for their rocker panel brush, top brush and wrap brush. NS Wash Systems has expanded the capability to design car wash systems not just for car wash, but for special project like transit, bus and so on.
Case #5

 Auto car wash brush is one of the most important equipment for MacNeil car wash systems. hey have branded their foam brushes as Envirosoft®. They have been declaring that Envirosoft is a kind of long-lasting foam, and can bring a sparkling and safe finish, which is available in a variety of attractive colors and patterns. It is actually just a kind of high performance EVA foam sheet.
Conclusion on Using Auto Car Wash Brush
High performance EVA foam are widely used as car wash brushes by lots of tunnel car wash systems providers. They are vital washing material for car wash machinery. They are quite flexible to be made in a wide range of custom shapes, sizes and properties.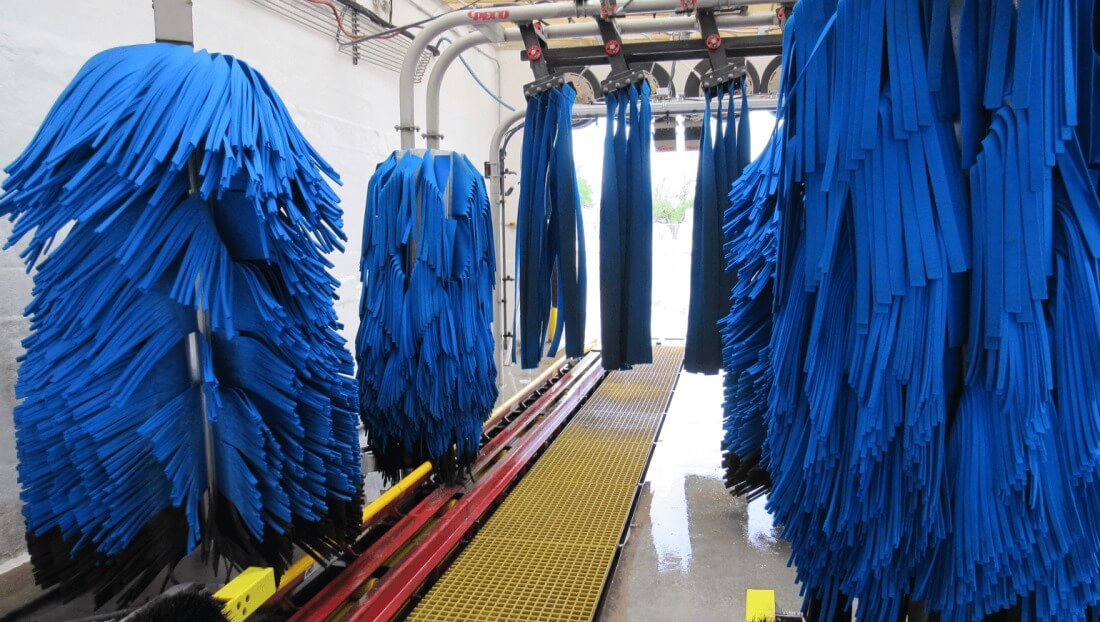 Also please do not forget the emphasis is on high performance EVA foam. Regular EVA foam material can not deliver excellent performance during working on automatic car wash equipment, and they can not go through rotation process in the long term run.
It deserves to invent in specialized EVA foam with higher cost than regular EVA foam, and they will pay you off in every day operation.
So what high performance EVA foam is good at? Based on our vast experience working with car washing systems provider and end customers, car wash foam brush should be excellent at tensile strength, elongation rate, abrasion strength and tearing strength. This guides to make sure before you choose a EVA foam material as your foam brushes.
For more detail on your custom case about EVA foam auto car wash brush, please feel free to contact us at info@www.foamtechchina.com. Your inquiry will be responded from our most professional service!