You can always see EVA foam puzzle mats in lot of places like supermarket, Amazon, eBay and so on. But when you are trying to buy these foam floor mats, do you really know what they are and how do you buy the right foam mats from various of them. Go with this article and we will show you a lot about foam puzzle mats.

The EVA foam puzzle mats are made of closed cell EVA foam material and treated with anti slip textured surface and multi-colors design. They are soft, cushioning and easy to install for flooring.
Get to know all types of interlocking foam puzzle mats
General foam puzzle mat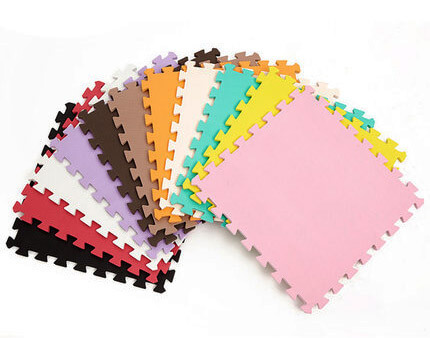 Typically general foam puzzle mat is mostly used for household application. People put them at their basement flooring, kids play room and home gyms etc.. The general EVA foam puzzle mat is finished with solid color such as red, yellow, blue, green, pink and so on. This is the very basic style of foam puzzle mats. General foam puzzle mat can also be made in any colors with in Pantone matching system. Besides, for general foam puzzle mat, the thickness for puzzle mat is usually 10 mm, 12 mm, 20 mm. The size can be 30 cm x 30 cm and 60 cm x 60 cm. Higher thickness also means better cushioning and comfort. It also depends on where you use these interlocking foam mats. For kids, as they have a light weight, so you can choose foam mats with 10 mm thickness. That would be workable each for kids play room.
As foam puzzle mats have excellent cushioning performance and are easily portable with removable border strips, they are perfect to use as exercise flooring. In most cases, martial arts studio and boxing gyms etc.. If provides reliable support for players in martial arts, taekwondo, karate and so on. The size for tatami foam puzzle mat is 100 cm x 100 cm and thickness with 20 mm, 25 mm, 30 mm, 40 mm. 20 mm thick tatami EVA foam mat is the most economical one for exercise flooring. For fierce exercise like karate, we suggest to using 40 mm thick Tatami foam mat as they can provide superior protection for players. Also the tatami foam puzzle mat is of two sides anti-slip textured finishing. Their two sides are also made in two contrasting colors like red & blue, yellow & blue and gray & black ect.. Other custom sizes and colors can be achieved according to customer requests.
Kids play mat – Number, Alphabet, Animal and Cartoon
Foam puzzle mat can be manufactured to be many kinds of kids play mat. Kids play foam mats are usually made of a set of puzzle mats. They have many color items like number, alphabets and animals on it. Children can also take these color items out of the mat and play with them just like toys. The EVA foam kids play mat can also be printed with various custom design on it. So they can be very colorful and eye-catching. Usually the size of kids foam play mat is 30 cm by 30 cm. Its thickness is around 10 mm. This mat is also interlocking foam mat attached with removable border strips. When using the play mat for kids at home, it can be both protective and enjoyable.
Carpet foam mat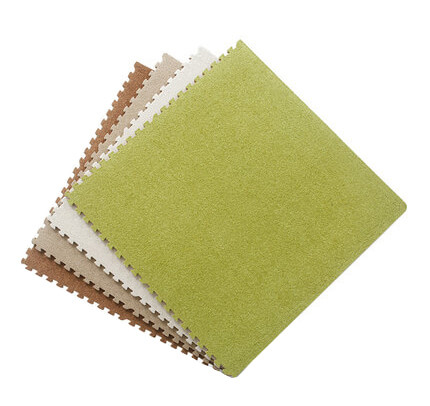 The carpet foam mat is specially designed by foam mats manufacturer to replace carpet for some occasions. It is very economical and convenient to use at restroom or other indoor room area. Also the carpet foam tiles are quite popular for trade exhibition. They not only have the luxury and comfortable carpet surface, but are easy to be installed and moved. Also the carpet foam mats are firmly laminated with our qualified EVA foam material. They can be very durable for long term abrasion. The regular size for them are available in 30 cm x 30 cm and 60 cm x 60 cm. The thickness for this foam tiles is around 10 mm. Also the color of foam carpet can be customized depending on customer needs. All the carpet foam mats have border strips attached for selling.
 Wood grain foam mat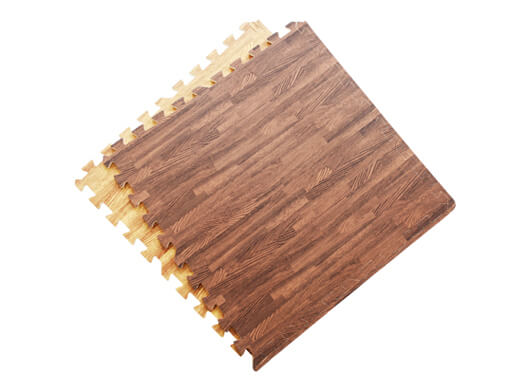 EVA foam puzzle mat can be versatile. The wood grain foam mats are fantastic. These wood grain foam puzzle mats are specially treated with wood grain texture finish. They just have the same appearance of the wood flooring when you see it. But the can provide better accoustic performance and comfort underfoot. It is made of high quality EVA foam sheet and is laminated with a layer of thin plastic sheet with wood grain texture on it. Wood grain foam mats are quite suitable to use as home flooring and trade show booth. They come in sizes of 60 cm x 60 cm in length and width. Having these wood grain foam mats at home can be quite different for your home setting, Also they are an economical substitute for solid wood flooring.
Customized design foam mats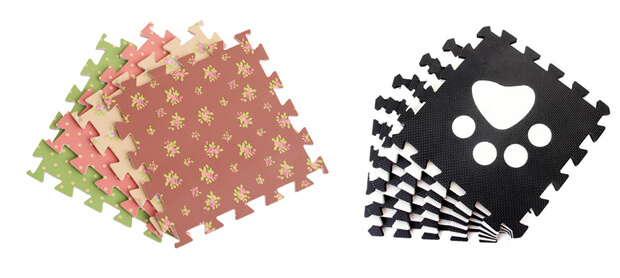 EVA foam puzzle mats are much flexible in designs and sizes. So there can be a lot of more custom designed foam puzzle mats. The usual foam puzzle mats have a square shape, but custom foam mats can be rectangle and round shape. Moreover these foam puzzle mats will also be in various custom design as they can be specially treated to have multiple design printed on it. Here you can see the rectangle foam puzzle mats and custom designed foam puzzle mats.
See where we use the interlocking foam mats
We have gathering some places where foam mats buyers usually put them at. It will be good if you know its applications better. Also different types of EVA foam puzzle mats also sometimes are used in different places. Take a look at where you can always use these foam puzzle mats.
Home Gym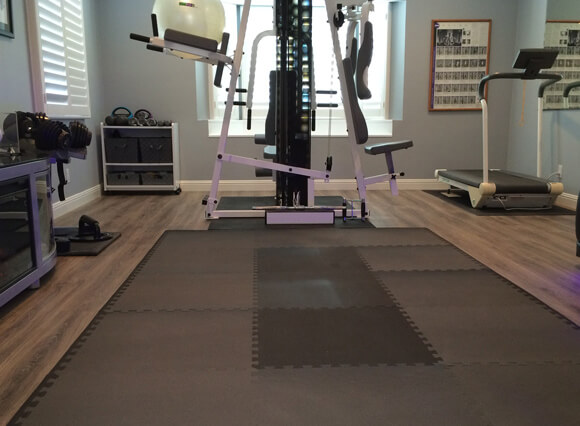 You may always see lot of EVA foam puzzle mats at home gym area. Almost every types of foam puzzle mats are suitable for using at home gym. Based on our experience, we would recommend some of them for you when you want to buy EVA foam puzzle mat for home gym. First general foam puzzle mat could not be a bad idea to choose. They are very easy to buy from many foam mats suppliers as they are the basic style. Also they are available in multiple colors so you can match them to many designs. Also tatami foam puzzle mat can be a good idea if your home gym is a large place and also you will have some fierce sports training like martial arts at home. Besides, some people would also like to use wood grain foam tiles to decorate their home gym. The wood grain mats can give you a good mood for exercise.
Home Flooring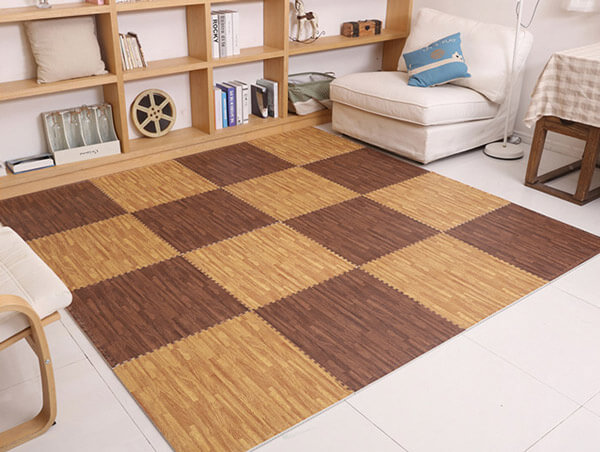 For home flooring, carpet foam puzzle mats and wood grain foam mats can be a real good choice. Both of them have special texture finish on surface that makes them seem like the real carpet flooring and wood flooring. Also as mentioned before, general foam puzzle mats can always be used at many places. Home flooring can also be installed with them. Especially general puzzle mats are suitable to use at basement flooring. They are always to be low cost mats for using for large flooring areas.
Taekwondo training studio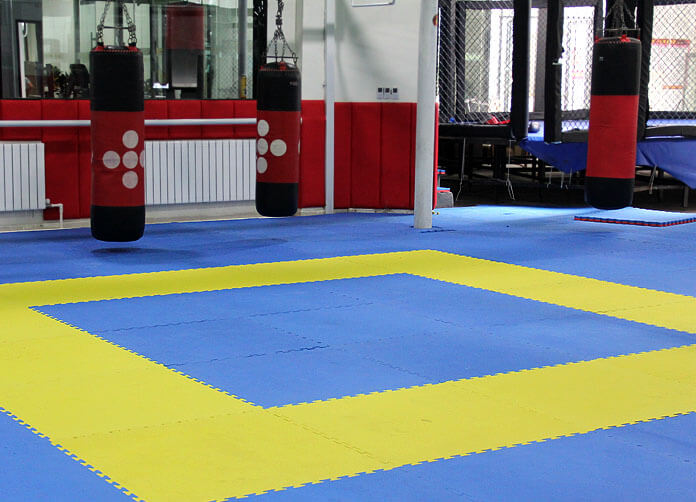 Tatami foam puzzle mat would be the best choice to use at martial arts training studios. These EVA tatami mat are of large size with 1 m x 1 m. With interlocking structure, they can easily fixed on the floor of martial arts training studios. Also each of tatami foam puzzle mats are textured of anti-slip finish surface which provides good protection for players. Also these mats can be up to 50 mm thick and it is great for martial art training like taekwondo, karate and other wrestling sports.
Kid play room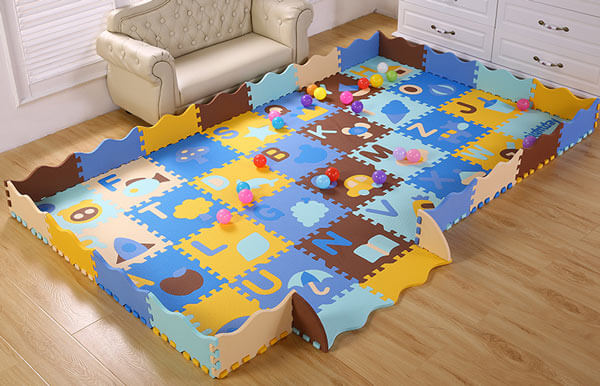 In order to make a lovely and safe kids room, the kids play foam mats are the best choice for it. These kids foam mats can be much colorful and enjoyable for kids. They also provides excellent cushioning protection for your children when walking on it. This is what other flooring can not achieve. Also children can also play with the foam mats and they can find cute animals, alphabet & numbers. The full set of kids play mats can also be a useful educational tool for your baby.
Trade show booth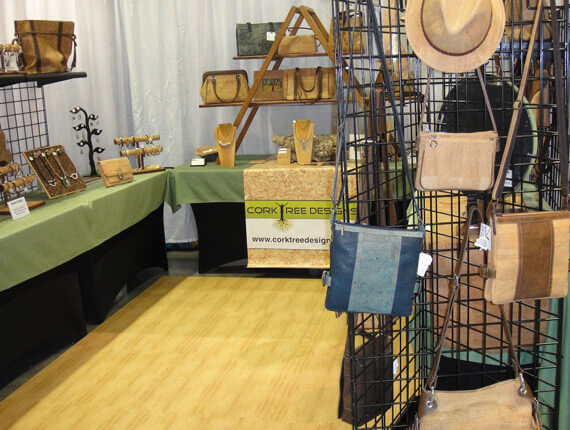 When you participate into a industry trade show, you may always want to have a good setting for your booth. So your visitor or customer will would like to stay at booth for longer time. You could choose the carpet foam puzzle mats and wood grain foam mats to decorate your booth. These foam mats are all quite portable and easily to use. They can definitely make your trade show booth look different from others. Also foam mats can offer a comfortable touch for your visitors. The foam puzzle mats are not disposable product, so you could also use the foam puzzle mats for many trade show that you will join.
Photo Background
This application of foam puzzle mats is what you might have ignored. As foam puzzle mats can be manufactured in many colors and custom printing designs. They can also be used as excellent photo backdrop. The general foam puzzle mats and wood grain foam mats would be a nice choice for using as photo backdrop. They have large size and are workable to put many items on it to take a picture.
Last above mention applications can never limit the possibility of foam puzzle mat usage. You can see more places where these interlocking foam mats are used.
You will know why people like to use EVA foam mats
1) Cushioning Protection
EVA foam play mats are made of closed cell EVA foam sheets which has excellent cushioning performance. So you could imagin after putting foam play mat at home, your flooring will be highly soft and cushioning. It is great when you have small baby at home. They will be quite safe and do not get any harm when they fall down on the EVA foam floor tiles.
2) Soft, Comfortable and Quite flooring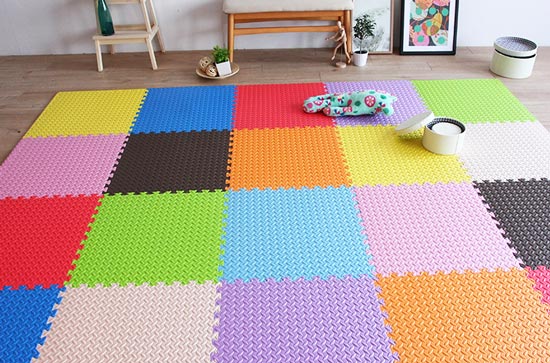 When walking or standing on ceramic tile or wood flooring, you will feel the hard and solid flooring. But when you stand on foam floor mats, they can provide a very soft and comfortable feeling underfoot. Also as they are made of foam material, these mats will do not cause any noise when stand, walk or even jump on them. They are affordable accoustic flooring and you deserve to have.
3) Waterproof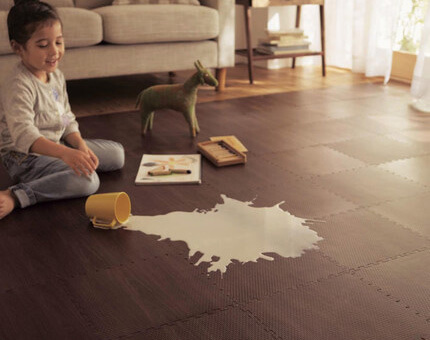 Foam floor tile are also waterproof as they are made of closed cell foam. When you using foam puzzle mats indoor, you do not have to worry they will be drenched by any liquid including water, oil and other fluid. As they are waterproof, so they can be easily cleaned up for daily usage by using water.
4) Anti-slip
All types of EVA foam puzzle mats are textured with anti-slip finish. This is a very common thing for this product. As they are designed to protect any users from skidding on it. Especially for kids foam mats and tatami foam puzzle mats, the anti-slip function can help a lot for kids and players.
5) Easy installation and easy portability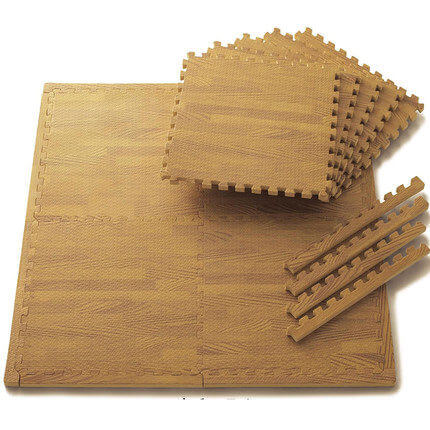 Foam puzzle mats are designed initially in interlocking structure by foam mats manufacturer. The interlocking structure can make these mats quite flexible and portable to use at many places. Also they are much easy to install in quick time. Just simply connect the interlocking tabs together, then the floor area will be easily covered.
6) Multi-functional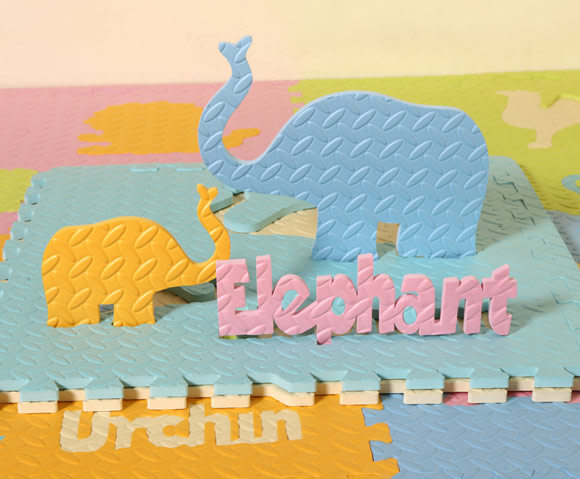 Foam floor mats are so versatile that we could not list all the advantages they bring. Besides using as foam flooring, Other benefits they will have like using as kids educational tools, DIY material, photo backdrop, cosplay costume etc..
How to install foam puzzle mats in right way
Here is the video that you could follow up when installing your foam floor mat.
* Before installation, first ensure the flooring surface is clean, smooth and dry. Do not leave any other items on the flooring you will lay on.
* Measure the floor area size and choose the right amount of puzzle mats for the area you want to cover.
* When interlocking the foam puzzle mats together, ensure they must all face the same direction.
* Connect the puzzle mats together by tapping the interlocking tabs in place.
* For corners, the mats can be easily cut by sharp knife to fit for wall to wall installations. The detachable border strips can also help.
Note: Do not glue puzzle mats to the floor. Suggest keeping direct sun light off the mats as this can heat up the mats and cause expansion.
Tips and reminder when buying and using EVA foam puzzle mats
1) Always check with foam mats supplier for availability of foam size, color and discount before purchase.
2) Before buying, consider where you will put them and choose the right type of foam tiles.
3) Make sure the flooring area, buy the right number of foam puzzle mats.
4) Shrinkage and expansion of foam play mats are normal due to high and low temperature.
5) Always follow the product instruction to keep and clean your foam puzzle mats.
6) Do not put inflammable items upon foam floor mats.
7) Do not standing for long time on foam mats when wearing high heels.
8) Do not put foam floor tiles outdoor for long time as they will age because of high temperature.
Leave comments for any question concerning EVA foam puzzle mats. FOAMTECH is a specialized foam manufacturer and fabricator and will be responding to your inquiry the soonest.